When we decided that we wanted to build a passive solar home we started using our vacation time to explore different parts of the country and look for the perfect site.

We've lived in big northern cities most of our lives and we wanted to relocate to a more moderate climate with more outdoor recreational opportunities. But, we also enjoy the change of seasons so we wanted an area that has fall colors and a little snow in the winter.


After several trips we narrowed our choices to either the Ozarks region of NW Arkansas or the southern edge of the Appalachians in North Georgia / Western North Carolina.

Land is inexpensive in Arkansas and we came close to purchasing a 47 acre site near Eureka Springs. It had a spectacular building site on top of a towering stone bluff. Arkansas has a midwestern feel to it and a long heritage of modern architecture from E. Fey Jones.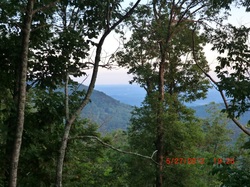 Ultimately, we decided on North Georgia. We were attracted by the mountains, the vast expanses of National Forest, the history of the region and the proximity to a major, metropolitan city.

We looked at more than 45 different sites and finally found one that has great south and southwest exposures and a lot of mature oaks and hickories that will shade the house in the summer.