When you're building on a sloping site it's really important to get an accurate topographical survey of the site.

We hired Frontline Surveying and Mapping from Marietta to do the topographic survey for neoTerra. We had them do a 2-foot contour interval. Since one of our goals is to preserve as many of the larger trees as possible, we also asked them to plot the locations of the larger trees in the potential construction area.

The crew from Frontline was great. They arrived right on time and walked the site with us to get a good understanding of where we planned to site the house and the trees we wanted to plot.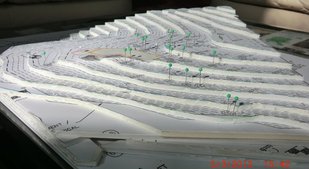 After we received the survey, I constructed a scale model of the site using foamcore. I glued copies of the survey to foamcore using spay adhesive and then made cut outs at 5 foot intervals using an x-acto knife. Stack them up with some Elmers glue to get a nice 3D terrain model.

You can orient the model to face true south and get an idea of how the sun will illuminate the site.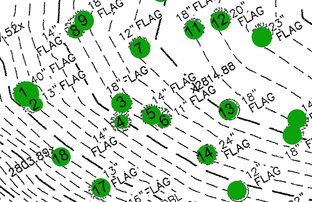 Since we are working on the design remotely from Chicago, we marked about 20 trees with numbers on green tape and put the ID's on the topographical map. It's surprisingly difficult to describe locations on a wooded site and the IDs make it much easier when you're talking with a subcontractor on their cell phone.

Simple things like this can help a lot when you're working remotely. If someone cuts the wrong tree(s) down it will take 50 years to grow new ones.