We considered several different systems for the foundation / basement walls
- Poured-in-place concrete
- Insulated concrete forms (ICFs)
- Superior Walls

I've built two homes before so I was familiar with traditional poured-in-place foundations. Poured, reinforced concrete is a proven system but it has a number of drawbacks. First, the walls are rarely level or completely square. Especially on a complex design with a lot of corners that steps down a slope. Second, the walls can be cold and musty. We mitigate that problem up north by insulating the exterior of the foundation walls but exterior insulation is not allowed in Georgia due to concerns about termites.

We decided to go with the Xi system from Superior Walls of North Carolina so a few weeks ago Tracey and I went to visit the plant and meet the team at their headquarters in Salisbury, NC about 30 minutes from Charlotte.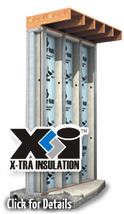 The Superior Walls system consists of monolithically poured, pre-cast concrete panels. The panels contain 2.5 inches of insulation which gives them an R value of 12.5.

They use a very high strength concrete mix that is reinforced with steel rebar and polypropylene fibers.

Each panel is custom made to the architect's CAD drawings with window and door openings cast into the panles.

Surprisingly, the cost of Superior Walls system is competitive with poured-in-place and turned out to be cheaper than ICF construction.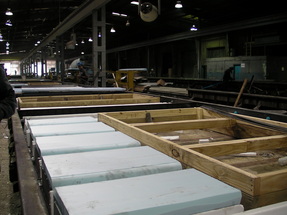 The crew is framing up a wall panel with window and door openings