This post will show a rough estimate of the total annual heating load not taking any solar gain into account. This will provide a baseline estimate of how much energy (and $$) can be saved annually.

Assumptions
As a quick summary, the assumptions are listed below:
- Total Heating Degree Days 3905
- Ceiling R-Value 38
- Wall R-Value (2x6) 24
- Low E windows R-Value 3.57 (U = .28)
- ACH50 7

A preliminary floor plan is shown below. Although we're still making a lot of revisions, it's close enough to make some estimates of heating load.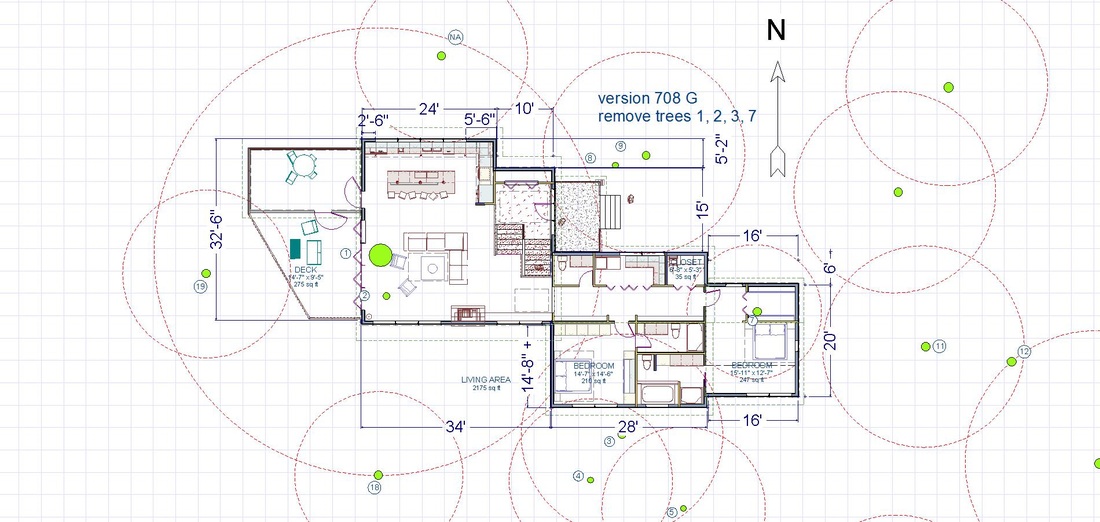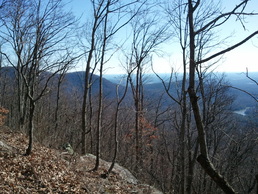 The front of the house faces north and the back faces south.

The footprint is roughly 2175 square feet with a full basement.

There's about 960 square feet of windows. I know this is way too much for an energy efficient design but the views are worth it. We will have to compensate by making improvements in other areas.
First floor walls are about 2263 square feet. The basement walls are about 2480 square feet and the total volume is about 42,750 cubic feet.


Heat Loss Through Insulation
This is a rough estimate so I'm taking some shortcuts. I'm going to treat the basement walls the same as the first floor, although the basement is not primary living space and generally will be left at a much cooler temperature. On the other hand, I'm also ignoring any heat loss through the basement floor.

The general formula is to divide the area by the R value to get a heat loss per degree per hour and then multiply by the total number of Heating Degree Days times 24 hours in a day.

Heating Load in BTU per Year = (Area / R) x HDD x 24

- Ceiling ( 2175 / R38 ) x 93,720 = 5,364,236 BTU per year
- 1st floor walls ( 2263 / R24 ) x 93,720 = 8,837,015
- basement walls ( 2480 / R24 ) x 93,720 = 9,684,400
- Windows ( 960 / R3.57) x 93,720 = 25,139,453


Heat Loss Due to Air Infiltration
To estimate heat loss from air infiltration, we have to calculate the cubic feet of air lost per hour and then calculate the amount of heat lost based on heating degree days.

The minimum code allows 7 air changes per hour using a pressure test at 50 pascals. Since the house has a total voume of 42,750 cubic feet (counting the basement) then code would allow a loss of 299,250 cubic feet of air per hour or 4988 cubic feet per minute (CFM). That is a LOT of air!

To estimate the amount of air that would be lost in normal (i.e. natural) conditions we divide by a fudge factor called the Energy Climate Factor. For the North Central climate zone the Energy Climate Factor is 20... I don't know how they came up with this, I merely looked it up.

ACH(normal) = ACH(50) / N where N is defined to be 20

ACH(normal) = 7 / 20 = 0.35 air changes per hour

This indicates that under normal conditions the house will vent 14,963 cubic feet of air per hour or 269 CFM. This is still a LOT of air!

To calculate total BTUs per hour you multiply by the Specific Heat (SH) for air. Specific Heat (SH) is the term that describes how many BTUs are contained in one cubic foot of material (per degree). Air isn't very dense and doesn't carry much heat. Air has a Specific Heat of .018 BTU per cubic foot per degree.

So the heat loss per hour per degree equals the voulume of air times the SH.

Heat Loss per hour per degree = (ACH50 x SH=0.018) / N=20

14,963 x .018 = 269 BTUs per hour per degree

To get the annual heat loss we multiply the hourly heat loss by the Heating Degree Days (HDD) times 24 hours in a day.
269 x 93720 = 25,241,139 BTU per year


Summary
The following table summarizes the annual heat loss for the baseline design.

- R38 Ceiling 5,364,237 7.2%
- R24 1st floor walls 8,837,015 11.9%
- R24 basement walls 9,684,400 13%
- R 3.57 Windows 25,139,453 33.8%
- Air Infiltration (ACH = 7) 25,241,139 34%
- TOTAL 74,266,244

Though it seems counter-intuitive, the R38 ceiling is the least concern since it is only responsible for 7.2% of the heat loss. The walls have a much larger surface area and loose more heat than the ceiling. The biggest opportunity for improvement is air infiltration.

In the next post, I'll calculate the energy cost for a few different heating systems