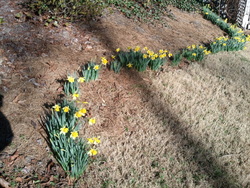 The microclimate up in the mountains is unique and doesn't conform to the expectations of Passive House or Energy Star standards.

The last week of January brought the daffodils into full bloom on sunny or south facing areas.

The next day brought lots of snow, dangerous roads and dense fog. What a difference in just 24 hours!!

Just 5 miles away (and 1000 feet lower in elevation) there was no snow at all.