I hope everyone had a wonderful Christmas!

Since I have the day off, it's time for another technical post. Today I'll be going over the mini-split HVAC system we're planning to use. I'll be using systems from LG as an example since LG provides a lot of technical info online and their cost is competitive.
---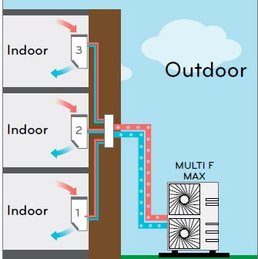 A mini-split heat pump system has a compressor outdoors similar to a central air conditioner. It also has an interior air handler unit that provides heating and cooling.

A multi-split system operates the same way but it allows multiple interior units to be connected to a single outdoor compressor. This allows each room to be a seperate zone with it's own thermostat.

The typical multi-split will supply 2-4 interior zones, though some units go up to 8.
---
The posts on Baseline Design and Air Infiltration worked through the overall heat loss, which is good for estimating total energy use and $$. To determine capacity, however, we have to look at the the coldest temperatures rather than the overall energy used.

Heat pumps operate by extracting heat from the outdoors and bringing it into the house. I know it seems illogical, but you can extract a lot of heat from cold air. Typical heat pumps will operate down to 10 degrees and Mitsubishi has a system that will operate down to -5 F.

LG publishes capacity and efficiency data down to 14 F so I'm going to work through an example for 14F. It's a reasonable shortcut since we only get three or four days per year where the temperature falls below 14.

The figures below show the capacity data for two LG models. The LG LMU369HV, which is rated at 36,000 BTU and the LMU247HV rated at 24,000 BTU.

Note that both the capacity (BTU/hr) and the efficiency (COP) decline as the temperature gets colder.
---
---
Although the LMU369HV is rated at 36,000 BTU/hr, it's capacity will drop to 22,300 BTU/hr at 14F, so a single unit will not be sufficient our projected heating load. At least two units will be required.

The following chart shows three potential solutions plotted against the projected heating requirements in BTU/hr.