A passive solar design can collect a lot of heat while the sun is shining. If there is not enough thermal mass within the house then it will get too warm during the day and it will get cold very quickly when the sun goes down.

A concrete slab in direct view of the sun is the simplest way to capture and store heat. As a general rule of thumb, there should be 6-9 square feet of thermal mass for each square foot of south-facing glass.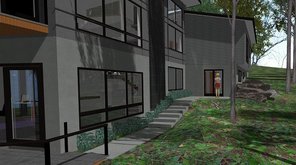 A basement slab on grade is the most cost effective since you need the slab anyway.

To take advantage of the basement slab, we designed neoTerra to step down the hill so there is a large walkout area in the basement with tall, south-facing windows
The living room on the main floor has even higher windows. As the sun moves from east to west over the course of a day, most of the floor receives direct sunlight. The flowing pictures show the solar coverage on December 21st at 1 PM and 4 PM.
There is about 200 square feet of south glazing which exceeds the guideline of 12%-15% of total floor area. It will definately require thermal mass so we decided to utilize a suspended concrete slab design similar to the one in the Labbe house:
http://thelabbehouseproject.wordpress.com/2009/07/29/suspended-concrete-slab/
Framing System
We will be pouring a 2" reinforced concrete slab over a metal deck. The concrete weighs roughly 25 lbs per square foot which requires a very strong framing system to support the weight (its about 21,000 lbs of concrete in the living room).
I looked at a lot of different framing systems and decided on the JoistRite system from Marino\WARE. The joists are extremely strong, light weight and the triangular cutouts simplify installation of wiring, plumbing and heating.
We are using 10" joists with a 9/16 galvanized steel deck. We will be pouring a 2" slab with 5000 # mix and 6" welded wire remesh to reduce cracking. The concrete will be the finished floor. The crew is finishing the framing and deck today and will be pouring the slab on Monday.