Mark has completed the plumbing rough-in. We decided to use PEX for all of the water supply lines.

PEX has a lot of advantages over copper or CPVC supply lines. Its less expensive than copper and fairly easy to install. The lines are distributed from a manifold in the basement.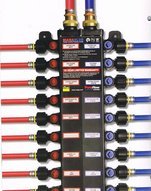 We are using a home-run system so every fixture has a direct, continuous run from the manifold. This minimizes joints, tee's and elbows.

Each line has it's own on-off valve right at the manifold so you can turn individual lines on and off.

The tubing is flexible, so installation is fast and simple and the entire system is lead-free.

The manifold is installed vertically and looks like a fuse panel for water
The Marino/Ware joists made it easy to route the lines through the floor system.