We spent the past week assembling and installing IKEA cabinets in the kitchen. They're easy to put together and installation isn't too difficult, but there sure are a LOT of them. I think we went a bit overboard.
It's best to install the upper cabinets first so you don't have the lowers in the way. We assembled all the uppers and lined them up along the wall. We wanted the cabinets to line up exactly with the windows, so we started at the center window frame and worked our way toward the corners.

Then we built 2x4 frames as bases for the lower cabinets. The bases are 3 1/2" smaller than the depth of the cabinets to create a kickspace.

Use a good, straight 2x4 and some quick-clamps to bridge across built-in appliances. This helps insure that the cabinets on either side are aligned and level.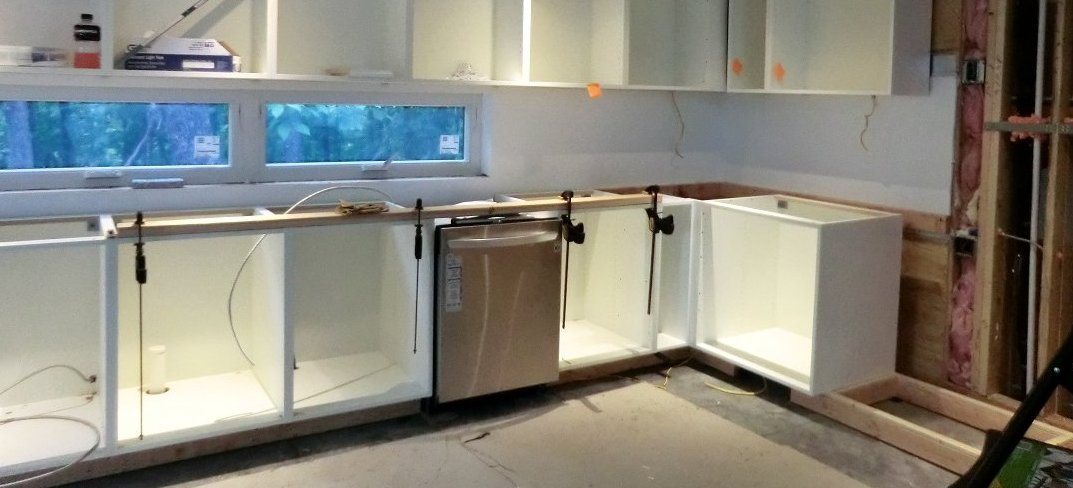 We hung a few upper doors to see how they look. The hardware is very sturdy and installs easily. We will leave the blue proctective film on until the very end.

But the high point of the week is that the beer fridge arrived on Thursday and it fits perfectly!

Almost done. The kitchen is ready for sinks and counter-tops. The laundry room is next.