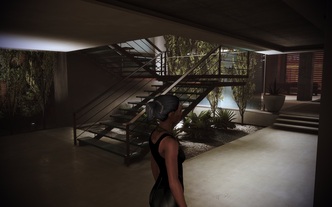 I hate to admit it, but I'm a video game nerd.

I liked this staircase from a sci-fi game called Mass Effect 3. It has a futuristic/industrial look with open risers. The stringers are channels and the treads cantilver a bit past the stringers.

Of course we can't build anything this thin, but it is a cool concept.
The basement is split-level. So there will be three sets of stairs

We found a local steel fabricator who could make the stringers with 2" x 6" rectangular steel channel and then we had the stringers powder coated.

We did the basement landing and foyer floors with 3/4" T&G oak to provide some warmth and contrast to the concrete floors in the rest of the house. The treads are 2" oak.