It is hard to believe that summer is almost over. We spent the entire Labor Day weekend designing the railings for the interior stairs. This has definately stretched my ability as a DIY builder to the limit. We went through eight revisions but I think we have a workable plan.

When it's done, it will look something like this: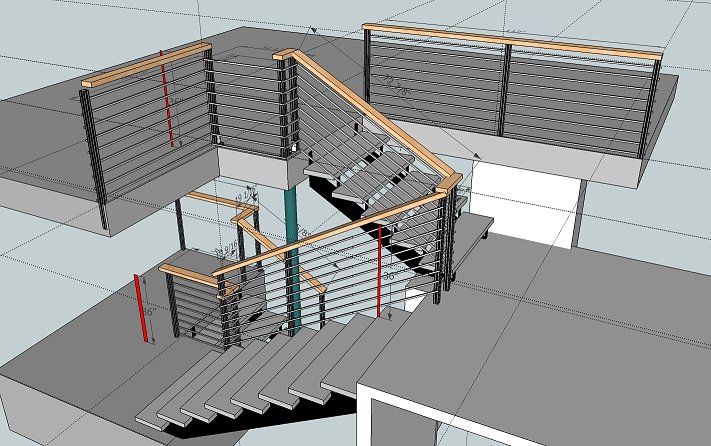 On the exterior, we are using a simple and inexpensive railing system made from electrical conduit and pressure-treated 2x4s. For the interior, however, we wanted something more refined. We decided to design the system using square aluminum tubing with an oak hand rail.

The entry and stairs are complicated. There are three flights that transition between four split levels. We realized that the actual construction will probably require a lot of 'adjustment' as its built so we wanted to come up with a design with a lot of flexibility. We decided to use 80/20 which is like an "Erector Set" for grown-ups.

80/20 consists of heavy duty extruded aluminum struts and a mind-boggling variety of joints, connectors, hinges and fasteners. You can build anything from a table to a robot with 80/20.
We are using 2"x2" struts as the posts for our railing system. Although 2x2 would be too small for wood newel posts, the 80/20 aluminum extrusions are much stronger than wood. Each face of the 2x2 extrusion has two channels that accept sliding, screw-in fasteners.... no welding or drilling required.
Round electrical conduit would be too difficult to attach to the sloped sections along the stairs so we decide dto use 1/2" square aluminum tube for the horizontal 'balusters'. To meet code, the balusters must be spaced at roughly 4" so we will need about 450 feet of alumium tube to build 50 feet of railing

The posts will be attached to the concrete floor with 80/20 floor plates and the square tubing will attach into the channels on the posts. At least that's the theory!!