The interior railings were the final project once the deck was completed. TW designed a DIY "Star Trek" railing system a couple of months ago. I know this is a long post, but this is, by far, the most complex DIY project we've done so far.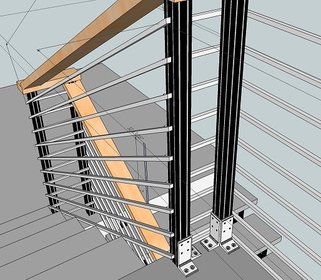 The design is a minimalist aluminum rail system with an Oak handrail to harmonize with the oak floors and trim in the entry area. The components consist of:
2" square extruded aluminum posts from 80/20

Cast aluminum base 'feet' from 80/20
1/2" extruded aluminum tubing for the horizontal rails
Custom fabricated steel brackets to attach posts to treads
Oak handrail
On the concrete deck, the posts are anchored with 3/8"
Red-Head
concrete anchors. On the wood floors and treads they are anchored with 3/8" lag bolts.
In spite of it's lightweight appearance, it is surprisingly strong.
We had a LOT of posts and tubing to cut and drill so we set up an impromptu workshop on the front deck.

I used a Hitachi 12" sliding compound miter saw with a 96 tooth carbide blade to cut the aluminum. I highly recommend this saw... it cut through the 2" extruded aluminum posts effortlessly and the built in laser helped make precision cuts.

We had to drill hundreds (and hundreds) of holes in the 1/2" aluminum tubing so I picked up an inexpensive Ryobi drill press. This was definitely a case of get what you pay for. It's junk and made the job really tedious.

We used 1/4-20 stainless bolts to attach the tubing to the posts.
The first couple of days were a lot of trial-and-error to get all of the angles and the spacing of the posts just right. We used several post levels (the orange gizmos) and a lot of quick clamps to keep everything aligned while we positioned and re-positioned the posts.


All done and ready for occupancy!