The deck is finally complete!

This is a long post but The deck has been a complex project.

Although we had an approximate design for the deck as part of the original house plan, we couldn't finalize the details until the house itself was complete and we could see everything in relationship to the slope and the trees we wanted to save.


We wanted the area under the deck to be a dry outdoor space so we investigated a variety of water-proof decking systems. We decided on AridDek from Wahoo Decks in nearby Gainesville, Georgia.

The AridDek system utilizes extruded aluminum planks.

The planks interlock with a continuous tongue & groove so there are no exposed fasteners that will ever leak. Each plank has an integrated duct that channels water off the end of the deck away from the house.


And it is non-combustible and fire resistant... which is a nice feature for a die-hard charcoal grill guy, like me. I can't wait to get the Weber grill set up!!



The terrain drops off pretty quickly going southwest from the house. We poured a 4 foot retaining wall along the south and west sides of the deck area. The wall is anchored in bedrock just a few feet below the surface.

As the house progressed we decided that instead of building a separate garage, we would have the area under the deck do double duty as an occasional carport. To eliminate center posts we used square, tubular steel posts and 12" steel beams to create a 24' clear span.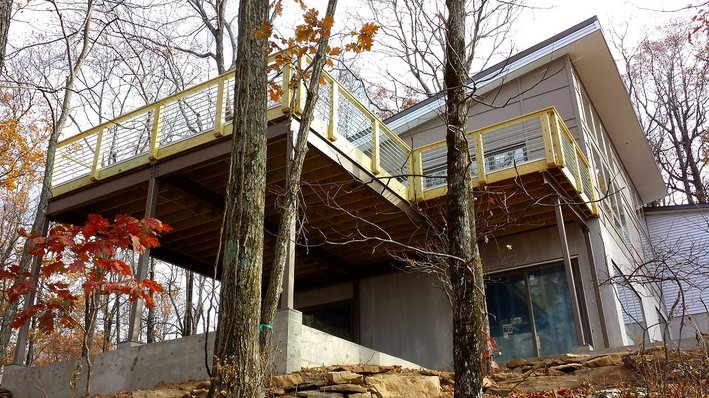 We made the railings with 1/2" electrical conduit, similar to the railing at the front entry. Because of the height, we decided to beef it up with 4x6 posts instead of the 4x4's used for the entry.