Intro
We don't have any cable TV service on the mountain so we have to look at alternatives. Two of our primary candidates are Over The Air (OTA) and streaming services such as KODI.

In this post I'll discuss OTA which can deliver the major broadcast networks and some PBS stations.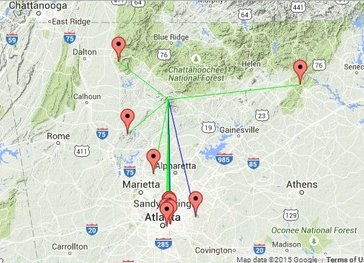 To find out what Over The Air (OTA) stations might be within range I used the transmitter locator tool on antennapoint.com (click on the image to go to their site).

They identified 15 transmitters within a 60 mile radius. Most of the stations are directly south in the Atlanta metro area and should be within range with a suitable antenna.

Three stations (Chatsworth, Athens and Toccoa) are far off axis.

Note that each transmitter broadcasts multiple stations so we should be able to get quite a few channels OTA.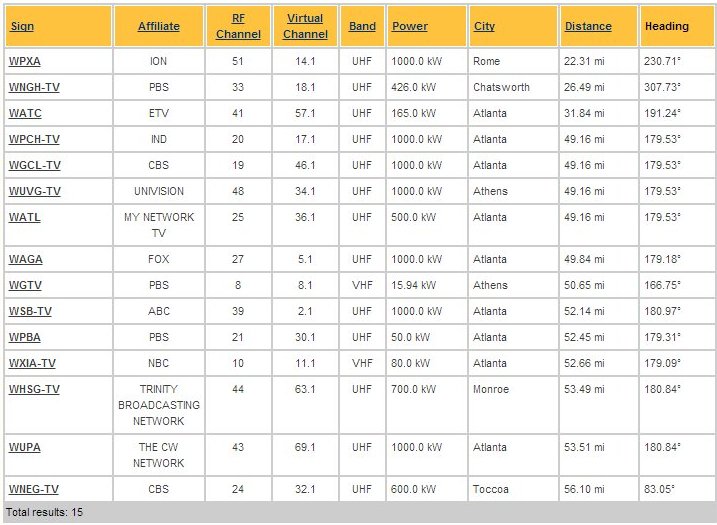 Experiment I - Leaf Indoor Antenna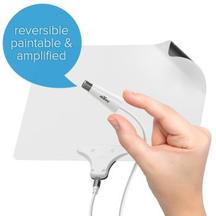 For the first experiment we tried the Mohu Leaf 50 amplified indoor antenna.

I selected this antenna based on small size, good reviews and the fact that the amplifier is separate so I could try it with and without the amplifier.

The antenna itself is about the size of a sheet of paper and only 1/4" thick. This allows us to hang it on the wall with a couple of tacks and try different locations.

Most of the major stations are in Atlanta which is almost directly south. For the initial experiments I just tacked the antenna to a south facing wall near the TV.

Results

The results are both better and worse than I expected.
On the positive side, the indoor Leaf 50 picked up 19 transmitters with a total of 68 channels. This is 5 more transmitters than predicted by the locator tool. As expected, we are not able to pick up 8 (Athens) which is off-axis and very low power. I'm surprised that we are able to pick up 18 (Chatsworth) and 32 (Toccoa).
In addition, we are picking up 5 transmitters that were not identified by the tool. These include 4 (very poor signal), 26, 45, 47 and 50. None of these transmitters are significant for us.
Virtual channel 26 is a low power station in Atlanta transmitting shopping, Spanish and French channels.
Virtual channel 45 is W45DX-D which is a low power station in Atlanta licensed to Home Shopping Network.

Virtual channel 47 is also a low power station in Atlanta. It is owned by Korean American TV Broadcasting.

Virtual channel 50 is also a low power station located in Atlanta
On the negative side, reception is inconsistent. Sometimes we get 60 (or more) channels and at others we have almost no reception at all. It does not seem weather related so I must consider the possibility that there's interference from our WiFi or other wireless devices in the house.