It's been awhile since my last post and I'm getting pretty far behind. We sold the Chicago house at the end of August and have now completed the final move to
neoTerra
. I hope to start catching up on the blog.
Today's post is about our new (to us) Roomba vacuum cleaning robot. As an elecrical/software engineer I spent much of my early career working on automation, computer controlled machines and even some robotics. I thought it would be fun to have a little robot in the house.

The Roomba is made by made by iRobot, a leader in the development and manufacture of mobile robots.


The 700 series came out about four years ago and has since been superseded by the 800 series so there are plenty of used 7xx models on eBay.

I purchased a lightly used 780 and got it yesterday.

The 780 comes with the Roomba robot, a docking/charging station, two 'invisible fence' units, a remote control and some miscellaneous accessories for cleaning the brushes.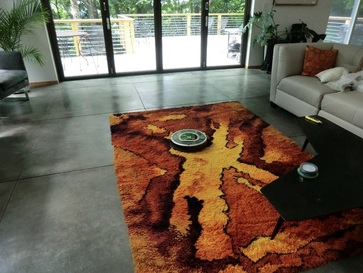 The house has exposed concrete floors with mid-century shag throw rugs. I'm happy to report that the Roomba transitions between the rugs and the concrete with no problems. It's programmed to reverse the brush and back up if it gets snagged on the edge of the carpet.

The Roomba has infrared sensors that look down at the floor and detect drop-offs (like stairs). These work very well and the robot cleaned the Great Room and entry area without falling down the stairs.

One problem, however, is the black carpet in the hallway. The black color fools the sensors into thinking its at a ledge and the robot refuses to travel down the hall.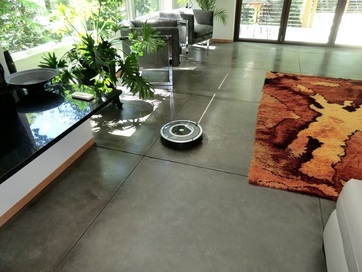 The robot appears to just drive around the area randomly and does not detect or remember the shape of the room(s).

The Great Room and kitchen is basically a big rectangle but there are numerous obstacles such as the island and the furniture. It takes the robot a long time to randomly cover the entire area but it does seem to hit it all eventually. The robot will run for 2-4 hours on a full charge so it does clean the entire room.

When it's done, it navigates back to it's docking station and recharges.

The cleaning is pretty good, though I've noticed that it works better on carpet than on the hard surfaces. When it detects dirt/debris it will start moving in a spiral and will go back and forth over the area until it determines that it's clean. Check out the following showing a Roomba picking up a bunch of pennies.

The dirt bin isn't very large but I think it will be big enough to clean the entire space if I schedule it to run twice a week.

It's fun to watch the little guy wander around the room. Overall, I'm happy with the new addition to our family.