Just before we started construction, we decided to replace the stairs coming into the house with a deck that would bridge the slope.

I won't say that it makes the house handicap accessible, but its always good to eliminate steps, especially outdoors. Here's a picture of the original concept.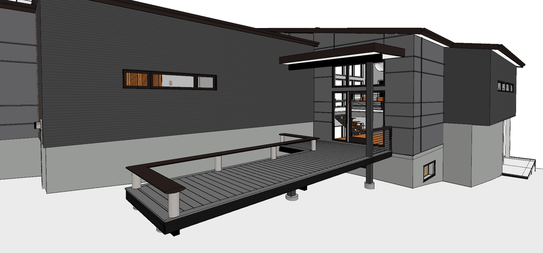 We had a brief break in the Fall Monsoon weather last week so I finally got around to building the benches.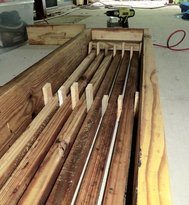 I'm working alone so I decided to build two 8-foot benches instead of a single long and unwieldy 16-foot bench.

I used pressure treated (PT) 2x6s for the sides and PT 2x2s for the slats.

Pieces of scrap 7/16" OSB were used as spacers to keep the slats aligned during assembly.

The finished benches are each 8'-3" long, 14 1/2" deep and 18" high.


Each bench has three 4x4 post legs attached with double 2x4s