TW is a huge Star Trek fan so the lower levels of the house will have a definite Star Trek / Sci-Fi vibe.

In keeping with the Star Trek motif we are calling the levels "decks" like a ship. In a ship the Main Deck is designated as deck 1 and lower decks are consecutively numbered 2, 3, 4 etc.

So, the main level of the house is Deck 1, the mid-level of the basement (East) is Deck 2 and the lowest level (West) is "Deck 3". :-)

The main project we've been working on over the past few months has been building out Deck 2.


A central feature for this half of the basement is a 20 foot hallway that runs directly beneath the hallway on the main level.

This hallway acts as the "spine" of the house. The plumbing, electric, Ethernet and coax run through the steel trusses in the ceiling and fan out to the rooms on either side on both levels.

In keeping with our passive solar design, the north side of the corridor is windowless and has two "Cargo Bays" for storage. The south side has Crew Quarters for visiting guests.

The house is built into a ridge so the north side is entirely underground while the south side has windows and a walkout. Visiting Starfleet dignitaries will have their own private patio!

The picture on the right shows the framing for the two Cargo Bay pocket doors.





Fun With LEDs

I decided to put a suspended ceiling in the corridor so we will have access to the utilities that run down the 'spine'. But to stay with the Star Trek theme it had to be something interesting.

We started by installing about 100 feet of LED strip lights around the perimeter. The LED strips come in 16 foot rolls with a self-adhesive backing so they are very easy to install. This is our third project with LED strip lights and we plan to use them much more in the future.


We wanted the ceiling to have a futuristic look and investigated a lot of different suspended ceiling products. We finally decided on translucent plastic panels from Ceilume. They come in a variety of different patterns and we selected the simple Polyline for it's classic industrial look.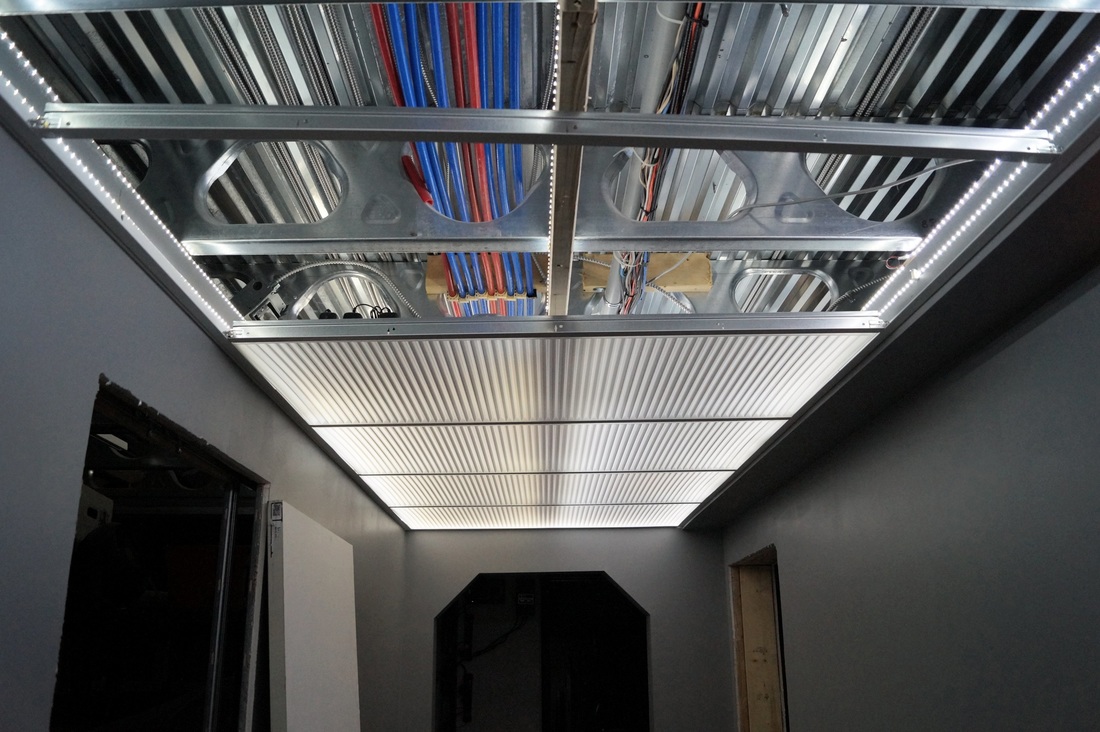 Main Engineering Blast Door

We wanted something really cool as a focal point at the end of the hallway. TW designed a fantastic graphic for the door and we commissioned RMwraps in Idaho to produce the graphic. Click on the pictures below to order your own Star Trek door !