I'm almost a month behind... but here's the December energy report.

At only 431 Heating Degree Days (HDD) December 2015 was one of the mildest on record. The historical average is about 720 HDD so this was only 60% of the average. We used 494 kWh for heating which comes to about $46.44 at the winter rate of 9.4 cents per kWh.

During the first half of the month only two of the seven interior units were turned on. On December 17th I turned two basement units on in anticipation of a cold front. Those units remained on until the 24th. The graph below shows temperatures versus energy consumed for the month.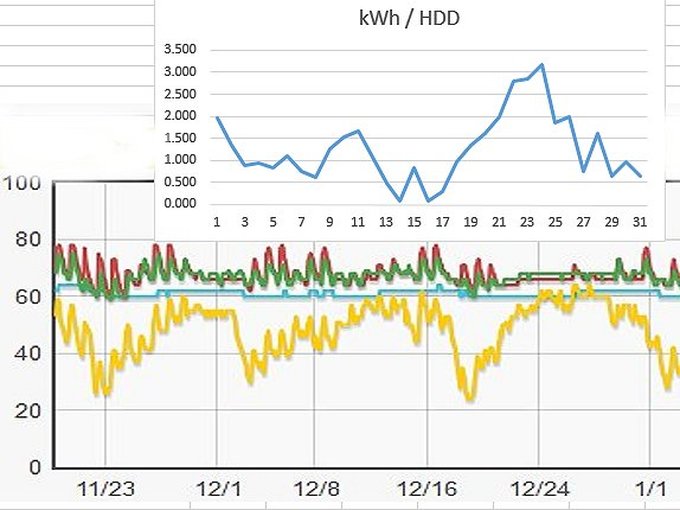 The upper chart shows energy used per HDD. Lower values indicate better performance.

The lower chart shows temperature (Red = First floor slab, Blue = basement slab, Green=ceiling, Yellow=outdoor). Note that the ceiling sensors are located inside the insulation above the drywall so they don't indicate the actual room temperature. The interior temperature runs 3-4 degrees warmer, so a ceiling reading of 65 corresponds to an interior temperature of about 68.

The charts clearly illustrate the effect of passive solar heating. The 3rd through the 8th were clear or mostly sunny. The temperature of the slab reached mid to upper 70's each day (except the 6th which was partly sunny). Energy use was less than 1 kWh per HDD, which is quite good.

The 9th through the 12th were mostly cloudy or rain and there is very little heating of of the slab. Energy use was 50% greater during this time than the previous sunny days.

As mentioned earlier, I ran two basement units between the 17th and the 23rd. This was a mistake... there are no walls in the basement yet and we have an open stairway. All the heat rises right up to the main level and the basement units run constantly. On the 23rd the energy use was twice as high as the 11th even though the outside temps were a bit warmer.

I shut the basement units off on the 24th and performance improved dramatically. The lesson here is that I should only turn the basement units on when it's so cold that the 4 main level units can't keep up.