Barred Owls

Over the past two years we we've heard owl calls at night but we've never actually seen them. I did a little searching on the web and discovered that the calls are unique to the Barred Owl. Many folks believe that the call sounds like "Who-cooks-for-you" but to me it just sounds like "Hoooo-hoo--hoo-Hoooo". You can judge for yourself.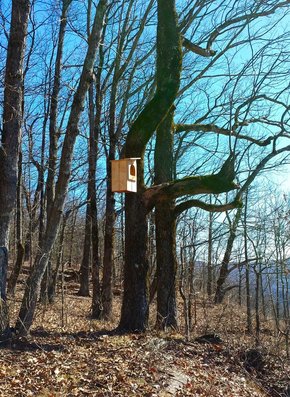 The Barred Owl is native to the Eastern United States but has expanded it's range into Canada and the Pacific Northwest. They are called "Barred" owl because of the distinctive 'bar' pattern on their chests which distinguishes them from the closely related spotted owls.

We would like to see the owls so I bought an owl house a few weeks ago and finally put it up yesterday. These are large birds so the house is really BIG.

Apparently, the owls need a clear flight path to the nest and like to sit on a perch to scout for food. I selected a gnarly old tree near the cliff with a clear path and a huge horizontal, moss-covered branch for a perch. I could only get it about 10 feet off the ground; as far as my ladder would reach.

The males scout out nesting spots in the early spring so we're hoping that a discriminating bachelor looking for an upscale residence will move in and start a family.